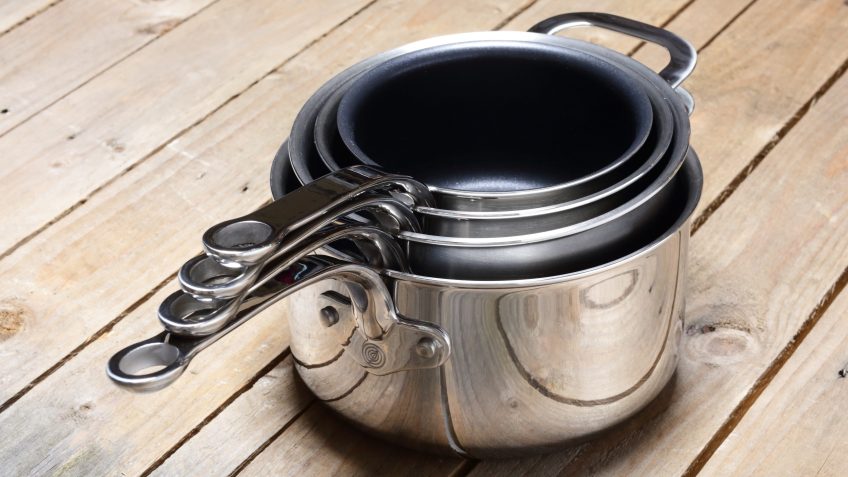 7 Things We Love About Our Stainless Steel Tri-Ply
Last December we were delighted to launch our Stainless Steel Tri-Ply range. We have now had a couple of months to live with them and see how the pans perform in the real world. The team here at ProWare have had a discussion about what they like most about them and this is what we came up with, we hope you agree!
1 Efficiency
These pans are designed with a perfectly flat base to ensure maximum contact with flat hobs and reduce ambient heat loss. This means they are very responsive to changes in heat, quickly achieving a rolling boil or settling down to a simmer. The Tri-Ply construction allows them to perform at their best on all hob tops (find out more here).
2 Versatility
When developing the Stainless Steel Tri-Ply 14cm Milk Pan and 26cm Frying Pan, we decided to offer the choice of non-stick or not (read more about the benefits of each here). Each has its pros and cons. Consequently, each perform some tasks better than others. If you're going to use you frying pan for fried eggs and crepes, go for non-stick. Conversely, if you intend to make lots of sauces using a metal whisk, a 14cm saucepan without non-stick would be preferable. Another bonus is that the entire range is oven safe!
3 Durability
When we develop a new product, the approach we take when deciding on a specification level is to ask ourselves 'what would we want in our own kitchen?' With a wall thickness of 2.5mm and cast stainless steel handles, these pans both look and feel extremely robust. In addition, our handles are secured using stainless steel rivets pressed with 200 tonnes of pressure. Most manufacturers use more cost effective aluminium rivets however, these are softer than stainless steel and can deform if repeatedly banged causing handles to loosen. We offer a lifetime guarantee on every element of the cookware with the exception of the non-stick coating.
4 Aesthetics
We have established that there is more to these pans than just a pretty base (get it?…anyone?), but we couldn't talk about our Stainless Steel Tri-Ply without acknowledging just what handsome devils they are. Classic yet contemporary design combined with the non-tarnishing properties of stainless steel means these pans will come out of the dishwasher looking almost as good as the day you bought them for years to come.
5 Thoughtful Design
We have incorporated several design aspects in to these pans to make them not only beautiful but dynamically functional. A steep arch in the handle makes the items easier to handle; it keeps the handle away from the heat source; and, allows the pans to nest efficiently in cupboards or drawers. An eyelet where the handle meets the pan body disperses heat to ensure handles don't get too hot and a hanging loop enables the pans to be elegantly displayed in your kitchen. We also know that larger pans can be very heavy when full. That's why we have added helper handles to the 18cm and 20cm saucepans, and the 24cm sauté pan.
6 Induction Compatible
This is the first complete range we have produced that can be used on an induction hob. The popularity of induction is increasing rapidly due to its wide appeal as a clean, efficient method of cooking.
7 Roast to Perfection
In February 2018 we launched something entirely new for us. The latest member of the Stainless Steel Tri-Ply family, our 35cm Roasting Pan has the same three-layer construction as the rest of the range meaning it will work on an induction hob too. This stunning piece makes oven-to-table dishes that much more appealing and it is built to last so will see you through decades of roast potatoes!
We would love to hear from you!
If you think we have missed anything or have any feedback about our Stainless Steel Tri-Ply (or any of our other products), please get in touch.