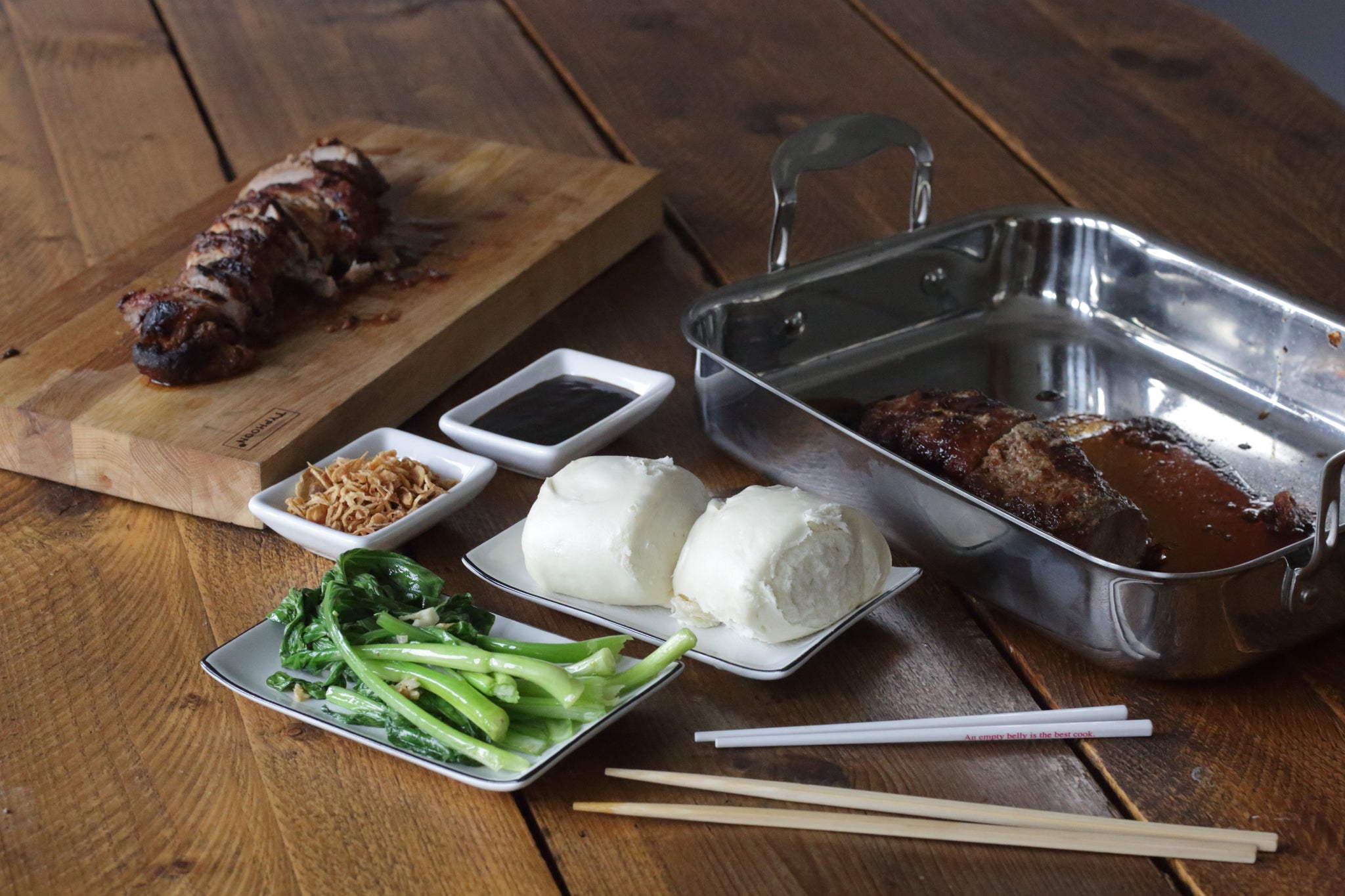 Char Sui Pork – Chinese Barbecue Pork
The recipe is something of a favorite in our household, the mix of sweet, the savory and richness of the pork is something that is very hard to beat. The pork fillets don't hang about too long when they're put on the table. It is much easier than you would imagine but it does take some forward planning to allow enough time for the marinade. The versatility of the pork once it is cooked is fantastic, you can serve it many different ways, plus if you've got any left overs you can throw them into a fried rice dish or serve on top of some soup noodle etc.
It also feels like a good debut of our new stainless steel tri-ply roaster!
Serves: 4

Prep time: 10 minutes plus minimum 2-3 hours to marinate

Cooking time: 40 minutes
Ingredients
1 tablespoon runny honey
1 tablespoon dark brown sugar
2 pieces of pork fillet approximately 500 grams
For the marinade
2 tablespoons vegetable oil
1 teaspoon sesame oil
2 tablespoons light brown sugar
3 tablespoons runny honey
3 tablespoons hosin sauce
1 tablespoon oyster sauce
1 tablespoon light soy sauce
1/2 tablespoon dark soy sauce
1 teaspoon Chinese five spice powder
2 cloves of garlic, finely chopped
1 inch (2 cm) knob of ginger, peeled and finely chopped
Equipment
Knife
Chopping board
Large ziplock bag or similar for marinating
 Cooking Method
Measure all the ingredients for the marinade into a bowl and whisk to combine.


Place the pork into a large ziplock bag or similar and pour in the marinade. Mix so the pork is coated and seal the bag. Place in the fridge to marinate for 2-3 hours or overnight.
Bring the pork back to room temperature before you plan to roast it.
Preheat the oven to 180°C/350°F
Whilst the oven is preheating pour the marinade into a sauce pan and add the additional sugar and honey and bring to a simmer and reduce a little, this is for glazing the pork whilst in the oven.
Place a sheet of foil, roughly double the length of the pork fillets, in the roasting tin. place the pork on top of the foil and fold the foil over loosely. Then place into the oven
Place the pork in the oven for 25 minutes.


Turn on the grill setting of the oven, and remove the foil, glaze the pork liberally with the reduction every couple of minutes. Whilst glazing keep an eye on the pork and do not let it crozzle too far.
Remove the pork and leave to rest for at least 10 minutes on a chopping board, loosely covered in foil.
We like to serve the pork sliced finely in some freshly steamed boa with hoisin, crisply fried shallots and garlic fried choy sum. Enjoy!