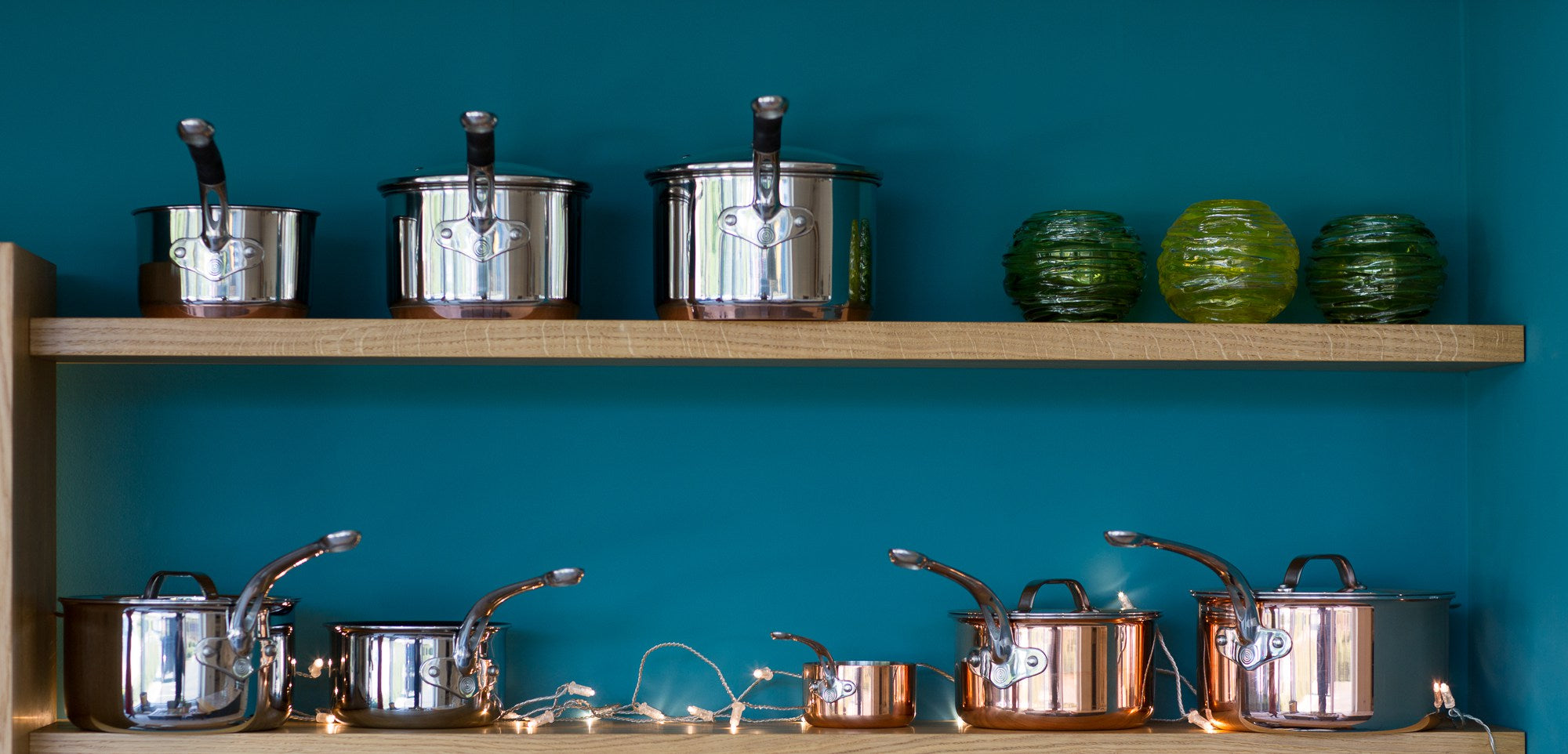 Finding the Right Cookware for You
Buying new cookware can be difficult. Aside from being a financial investment, there is such a vast array of products out there that it is sometimes a challenge to choose correctly.
You may be lucky enough to know exactly what you want and exactly where to get it. Or perhaps you've had the same set of pans for the last 30 years and just plan on buying the same ones again.
If, however, you simply don't know where to start, try asking yourself…
What do you cook on?
First things first, the type of hob you have (or plan to get) is very important. It will be either gas, radiant ring, ceramic or induction.
A lot of cookware can be used on all types of hob (*cough* our Stainless Steel Tri-Ply for example *cough*), but there are some types that cannot be used on induction hobs. This is due to the item having a non-ferrous base. In other words, the base is not made of a magnetic metal such a cast iron or certain stainless steels.
Pots and pans with a base made from a metal such as copper or aluminium are not compatible with induction hobs. Make sure to check your pans are induction compatible before trying to use them on an induction hob.
What is your style?
Your personal style and the aesthetic of your kitchen are factors that you should probably think about. As with kitchens, cookware is available in a wide spectrum of styles, from traditional to ultra modern. If you are planning on spending a lot of money it is important to go with something that you not only love but won't get tired of. If you are easily bored, opting for high spec, expensive cookware is inadvisable.
When designing our cookware we set out to give them a timelessness, to make them look and feel at home in any setting. We did this by incorporating traditional elements such as riveted handles and hanging loops in to a fresh and contemporary shape.
Who do you cook for?
Another consideration is the number of people you are regularly cooking for. Small saucepans (16cm or less) would likely be seldom used in a large family, thus it may be preferable to have 2 large pans (18 or 20cm) that will be used all the time than 3 or 4 of varying sizes, some of which may never leave the cupboard.
Conversely, if you are generally only cooking for two, smaller saucepans will be used much more frequently. That said, it would no doubt be favourable to still have a large saucepan on hand should you have guests.
With this in mind it may be better to purchase pans as individuals rather than in sets. Nobody can predict you cooking habits better than you. Explore our saucepans here.
What do you like to eat?
Most pots and pans are very versatile and can be used for all sorts, making them an essential part of any kitchen. There are certain items though that have quite niche roles in the kitchen, some of which may be of no use to you.
For example, non-stick frying pans. There is no denying that they are great for fried eggs and pancakes. However, we would recommend one with a stainless steel interior for just about everything else. If you never cook fried eggs or pancakes, perhaps a non-stick frying pan is not for you.
Likewise, the functionality of a milk pan is quite limited because of its small capacity. As their name suggests, they are perfect for warming milk and making porridge too. They can also come in very handy when cooking for small children or making sauces. Beyond this, their size can hinder versatility as a saucepan and potentially demote them to a non-essential item.
What do you already have?
If you already have some individual pieces, don't replace them for the sake of it. If they're good quality and still in working order, keep them. Many items, including the entire ProWare range, are available as individuals so you can tailor sets around what you already have.
Decision Time
We hope these tips have given you some useful pointers on making the right choice for you. If you have any questions or would like to share a tip of your own we would love to hear from you! Get in touch via social media or email us at info@proware-kitchen.co.uk.