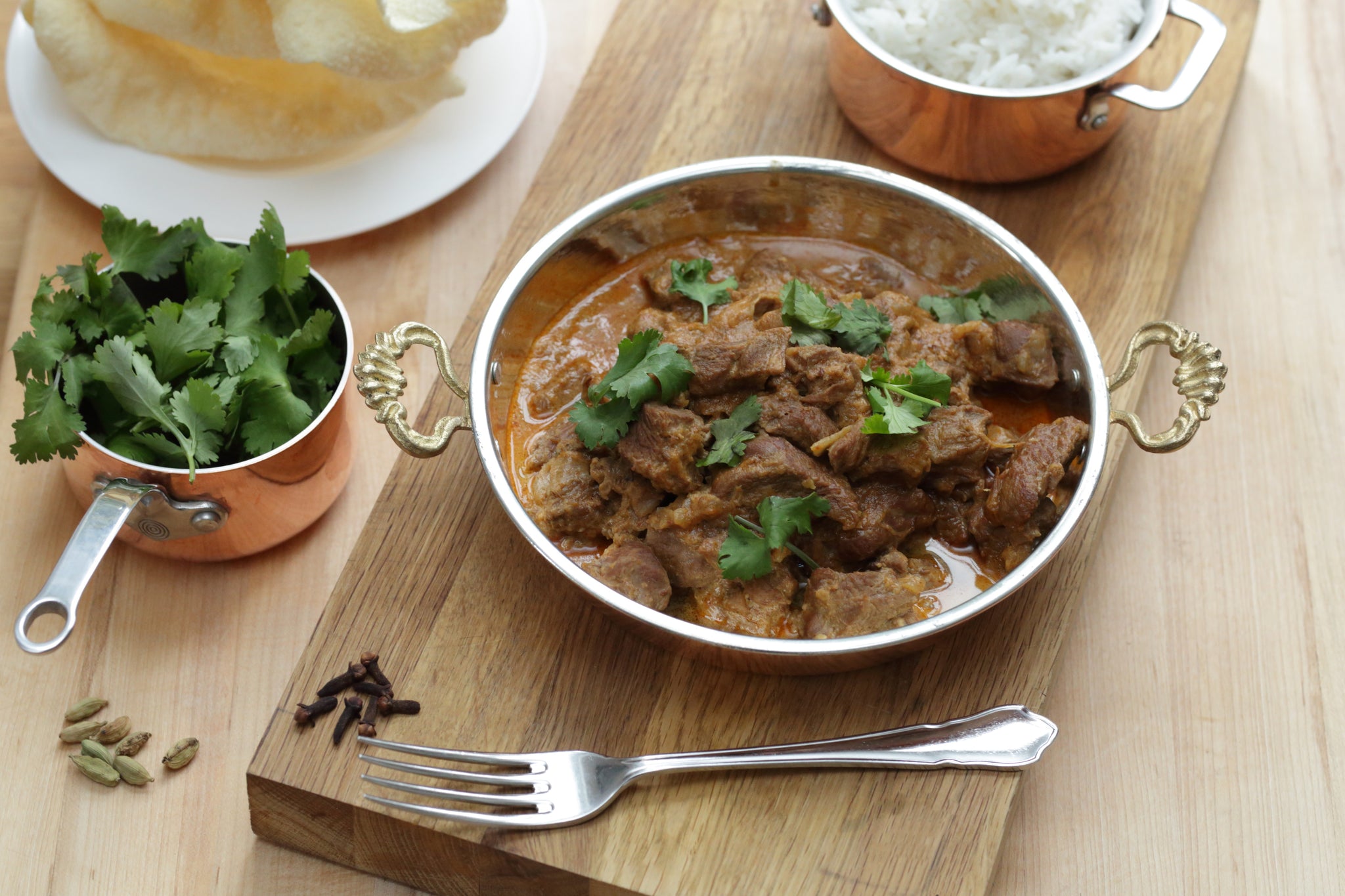 Lamb Rogan Josh with Spice Kitchen
Spice Kitchen are an award-winning artisan producer of tea and spice blends based in Walsall. They have a excellent range of small batch, freshly ground spices great for keen home cooks. In addition to this they sell products for tea aficionados and have some wonderful gift ideas.
They were kind enough to send us two of their spice tins (Gift of the Year 2018), containing 10 Indian spices with 7 individual spice pots, wrapped in a beautiful handmade silk sari wrap. One of these will form part of our up-coming Spice Kitchen Giveaway.
We have used the spices from their Indian Spice Tin to make a fantastic Lamb Rogan Josh. Lamb Rogan Josh is an old family favourite of ours and for the longest time the version in Madhur Jaffrey's Indian Cookery was our go-to dish for an easy Saturday night.
The dish originates from Kashmir and can be made using beef or lamb. In researching this version, we saw a suggestion that the meat could be substituted for cauliflower – though cooking times would obviously be significantly reduced!
Part of the faff of making this dish was sorting through the spice cupboard or having to pop out to the supermarket. Thanks to Spice Kitchen almost all of the ingredients were easily to hand in the spice tin.
The dish is even better if it is prepared ahead of time and the sweet yellow rice is a perfect accompaniment if you have the time!
Lamb Rogan Josh
Serves: 4 (easily doubled)

Prep time: 20 minutes

Cooking time: 2hr 15 minutes
Ingredients
4tbsp vegetable oil
5cm piece fresh ginger
8 cloves garlic, peeled
10 cardamon pods, whole
2 curry leaves
6 cloves, whole
10 peppercorns, whole
1 cinnamon stick
2 tsp cumin seeds, ground
2 tsp ground coriander
2 tsp paprika
1 tsp cayenne pepper
1 tsp salt
0.5 tsp garam masala
900g rolled lamb shoulder, cut in to 2cm cubes
200g onions, peeled and finely sliced
6 tbsp natural yoghurt
Equipment
Cooking Method
Using a blender, combine the ginger, garlic and 4 tbsp water into a smooth paste.
Heat the oil in a wide, heavy pot over a medium-high heat and brown the meat in several batches. Set to one side.
Add the cardamom, bay leaves, cloves, peppercorns and cinnamon to the hot oil, stir once and wait until the cloves swell and the bay takes on colour. Then add the onions and fry for 5 minutes until they brown.
Add ginger paste and fry for 30 seconds. Mix in the coriander, cumin, paprika and cayenne; then add the fried meat and juices and stir for 30 seconds.
Add 1 tbsp of the yoghurt and stir until it is well blended. Add the remaining yoghurt, a tablespoon at a time, stirring in between.
Cook for a further 3-4 minutes then add 425ml water and bring to the boil.
Cover and turn heat to low. Simmer for 2 hours or until meat is tender. Alternatively, cook in oven at 180C. Stir every 15 minutes or so.
When the meat is tender, turn the heat up, remove the lid and boil off some liquid.
Before serving, skim off as much fat as you can from the top and sprinkle with garam masala and some freshly ground black pepper.
Sweet Yellow Rice (Meetha Pullao)
Serves: 4 (easily doubled)

Prep time: 3hr 25 minutes

Cooking time: 1hr 10 minutes
Ingredients
1/2 tsp saffron threads
2 tbsp whole milk, warm
200g basmati rice
3 tbsp ghee or butter
4 green cardamon pods
1 cinnamon stick
1/2 tesp salt
15g flaked almonds
1tbsp sultanas
90g caster sugar
Equipment
Cooking Method
 Using a frying pan, toast the saffron over a medium heat until the threads turn slightly darker.
Put the milk in a cup and crumble in the saffron. Set aside for 3 hours.
Wash the rice, changing the water 3 times, then drain. Leave it to soak in 1.2 litres of water for 30 minutes. Drain and leave in the colander for 20 minutes.
Preheat the oven to 150°C/300°F/gas mark 2.
Heat the ghee over a medium heat in a wide, oven-proof pan. When it's hot, add the cardamom and cinnamon and stir. Add the rice and stir.
Sauté the rice gently for about 3 minutes, reducing the heat slightly if it begins to catch. Add 325 ml of water and the salt.
Increase the heat back to medium and gently stir. Cook the rice until all the water is absorbed.
Pour in the saffron milk and stir in the almonds, sultanas and sugar. Cover very tightly and put the pan in the oven for 30 minutes.
Remove the rice from the oven and stir. Remove the cardamom and cinnamon. Sprinkle with the extra sultanas and almonds to serve.
spicekitchenuk.com
soldwithlove@spicekitchenuk.com
07729 116102