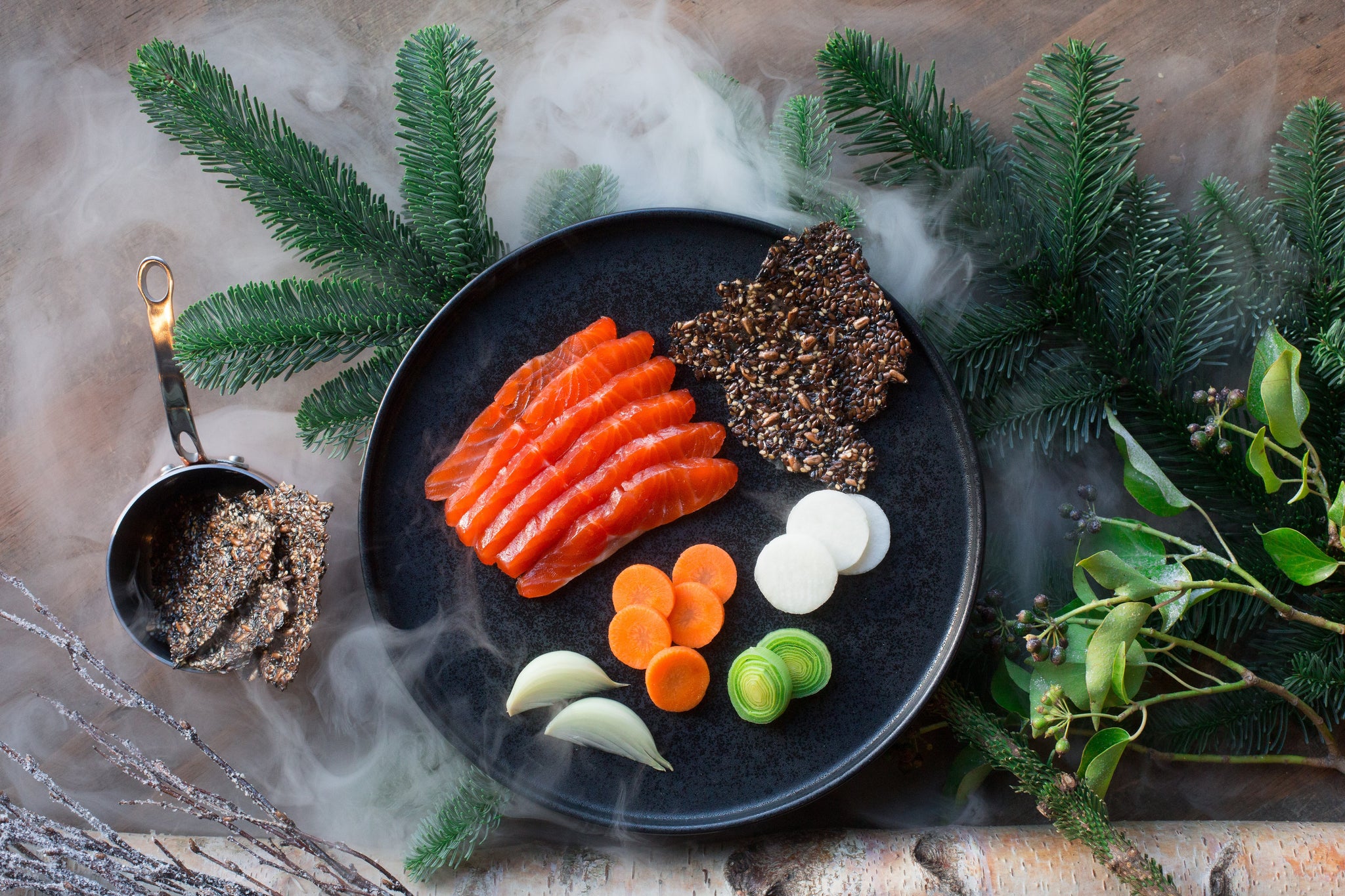 Wild Sea Trout cured in Douglas Fir Gin, Linseed Cracker and Pickled Vegetables by Jöro
Jöro's Chef Director Luke French has created yet another stunning Christmas recipe for us. This is an impactful starter which is easily made ahead of time.
Luke chose Twisting Spirits Douglas Fir Gin to cure the wild sea trout. This gin is distilled over Douglas Fir pine needles which lend a unique, Christmassy aroma and flavour. The background flavours of the gin: grapefruit, lemon and cut grass, provide a lovely counter-balance to the oily goodness of the wild sea trout. Twisting Spirits forage for the Douglas Fir pine needles locally to their South Oxfordshire micro distillery. If you are looking for the perfect gift for gin lovers this Christmas look no further than Twisting Spirits' Selection Gift Packs which include the Douglas Fir Gin, a Kaffir Lime & Lemongrass Gin and an Earl Grey Gin.

This recipe will help you get ahead at Christmas as it can (and should!) all be made before the day. The trout needs a few days to cure, so make sure you build time in for that and the linseed crackers can be baked and stored in an air-tight box for up to a week. If you haven't got time to pickle your own vegetables make sure to pick up a jar of pickled vegetables to accompany the dish. Jöro's recipe for pickled vegetables is very quick and easy, check it out here.
Wild Sea Trout cured in Douglas Fir Distilled Gin, Linseed Cracker and Pickled Vegetables
Serves: 6 as a starter

Prep time Trout:  15 minutes

Resting time: 3 days in the fridge

Prep time Crackers: 15 minutes

Cooking time: 50-60 minutes

 
Equipment
Knife
Chopping board
Food processor
Bowl
Wooden spoon
Cling film
Tray
Kitchen towel
Hand blender
Baking sheet lined with non-stick paper
Ingredients Trout
1 x 500/600g piece of wild sea trout, de-scaled and de-boned
1 bottle of

 

Twisting Spirits Co. Douglas Fir Gin

 

(available online, of course you can use any kind of gin, Douglas Fir just tastes like Christmas!)
100g sea salt
100g caster sugar
5 green juniper seeds
1 small branch of Douglas Fir (Christmas/pine tree), needles removed
1 jar pickled vegetables to serve.
For the Trout:
Begin by scoring the skin of the trout every few centimetres but taking care not to cut into the flesh.
To cure the trout: add the salt, sugar, juniper and pine needles to the bowl of a food processor and blend to a fine powder. Pour into a bowl and add the gin liberally until a thick slurry is formed and the mixture is beautifully aromatic and boozy.
In a tray place a large but even layer of double lined cling film and then smother with an even layer of the cure mixture and then place the trout on top, followed by another layer of the cure mixture, then wrap tightly with the excess cling film and place the tray in the fridge and leave it for around 3 days, turning the fishy parcel over twice a day.
When it is ready the fish should be firm to the touch on the outside and tender throughout, to finish the preparation, carefully wash off the cure mixture under cold running water for 5 minutes, then dry well with kitchen towel, remove the skin and slice thinly and reserve in the fridge, covered.
Ingredients Crackers
350ml water
2.5g table salt
20g potato starch
50g linseeds
15g white sesame seeds
15g black sesame seeds
20g sunflower seeds
For the Crackers:
Place the water and salt into a pan, using a handheld blender, gradually add the starch whilst blending until fully combined without lumps, if there are any lumps, pass through a fine sieve into a clean pan.
Place over a medium heat and add the seeds, stirring continuously until the mixture thickens to custard-like viscosity. Pour it onto a baking sheet lined with non-stick paper and bake in a pre-heated oven at 160C for 50-60 minutes until dry and crispy, then remove from the oven and allow to cool, break into desired sized pieces and store in an airtight container until needed.
Serve the trout with the crackers and

 

pickled vegetables.